Home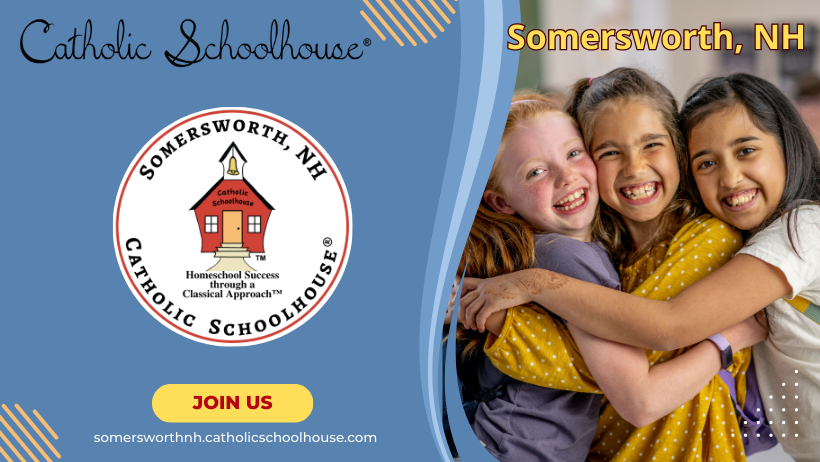 Welcome to Somersworth, NH Catholic Schoolhouse®
Contact us to learn how your family can join!

Registration opens
March 1, 2024* – May 31, 2024
for Tour 2 – 2024/2025 school year
*Early registration discount ends March 15th
After May 31st, please contact us to be added to our waitlist.
We're glad you're here to learn a little more about our chapter!
We meet once a week for 24 weeks throughout the school year in a 3 weeks on, 1 week off rotation to ensure everyone has a break. This will also include ample time off for Advent, Christmas and Easter. Our community chapter day begins at 8:30 AM with prayer and the Pledge of Allegiance as a group, followed by chorus for early grammar and grammar students.  We attend Mass with the Parish from 9-9:40 a.m. Children will then move into their academics where they will learn and review memory work, enjoy hands on art and science, and a snack and a brief community lunch period. Our chapter day concludes at 1:00 PM, again gathering for prayer, closing announcements.
Each family is responsible for purchasing the Tour Core Program from the Catholic Schoolhouse® Store. Discounts and free shipping will be available with our bulk chapter order.
We are looking forward to an exciting and fun-filled year! We would love to have you prayerfully consider joining our community. Please contact us to arrange a visit or attend an information night to learn more.
Many Blessings,
Angela Kantz,
Chapter Director
Catholic Schoolhouse® Overview
Homeschooling can be challenging. But it can also be so rewarding! Parents and students benefit from the support of each other during their homeschooling adventures. This is why we are here!
Are you looking for a classical, Catholic program?
Do you desire a consistent, Catholic peer group for your children – the kind that builds lasting relationships and encouragement?
Do you want socratic discussion and classroom interaction for your middle and high school students?
Do you feel like you are juggling too many things and missing family unity?
Would you like to meet other parents with like-minded goals to share your journey?
Catholic Schoolhouse® is a program designed to help homeschooling families enrich their educational experience through a flexible approach to learning inspired by classical elements, presented in a structured environment. Our approach is to work with the grain of the stages of development of our children, rather than fighting against it. Virtue development shares an equal importance to academics for us.
Empowering Families to Share Catholic Culture
At Catholic Schoolhouse® we bring families together,
allowing them to share and experience immersion in a loving Catholic Community—
a community that strives to grow in virtue and holiness.
Together we encounter the true, good, and beautiful
while forming tomorrow's Catholic adults to be light in the world.
The whole family has a place at Catholic Schoolhouse®. Our main mission is built on family unity and is designed to be flexible to enrich a family's educational experience while using classical elements presented in a structured environment.
Pre-grammar allows the younger siblings in the family to begin learning 'like the big kids'. They enjoy activities suited to ages 3-4, including art and science while being immersed in virtue all while learning our Catholic faith.
Grammar students, those traditionally of elementary ages K to 6th grades, will focus on mastering facts each week that provide a framework for future knowledge. These facts can be used as springboards for further learning at home, serve as additional contact points to refresh material that was previously taught, introduce new topics, or simply enrich your current homeschooling style.
Dialectic and Rhetoric stage students have opportunities for discussion, logic development, and speaking while staying focused on fine arts and history time periods, keeping with the tour guide to facilitate family cohesiveness. Our upper-level program is a place for your high school student to engage in group discussions and engaging interactions of classical learning as well as a full program to use in your home school. Contact us for more information.
Catholic Schoolhouse® is more than a day out of the house; it can help bring structure and cohesiveness to your entire home school experience and will bless your family.
Catholic. Classical. Accessible. Flexible.
Catholic. We are true to the magisterium of the Roman Catholic church, striving to love in the heart of Holy Mother Church.
Classical. Homeschool success through a Classical approach™. While we come from a classical approach, we are flexible.
Accessible. You can do it! Our topical approach allows parents to create a learning plan that is achievable for all teachers and students. Our special needs learners are immersed in the heart of our communities and the family's educational plan.
Flexible. Catholic Schoolhouse® moves and grows with the family and the child. Catholic Schoolhouse® can adapt to your needs, both as a family and as a community.
Catholic Schoolhouse® was founded in 2007 to enhance education in the grammar stage by providing classical memory work for the Catholic homeschool. Going beyond simple memory work, the developers enlisted experts in all areas of study and a wide variety of resources, Catholic and secular, homeschool and non-homeschool to determine what information is typically encountered during the elementary school years (K-8). 
Individual families, chapters and co-ops are able to succeed, bring family unity to teaching, and belong to a greater Catholic community with Catholic Schoolhouse®.
Catholic Schoolhouse® is loyal to the magisterium of the Roman Catholic Church
and has received the nihil obstat and imprimatur for all three Tours of our curriculum.
"… Catholic Schoolhouse covers a lot of subject matter [Memory Work Audio CDs, History Cards, Science, Fine Arts, Math, Language Arts, Geography, and Foreign Language] even though it isn't your entire curriculum. The Catholic Schoolhouse site has links to a blog with additional activity suggestions that should be very helpful. Their "Now What Do I Do? page" has suggestions for those working on their own. A "Local Chapters" tab lists active Catholic Schoolhouse chapters in which you can enroll. There's lots of help and support from those already using Catholic Schoolhouse. I expect Catholic Schoolhouse will continue to sprout new chapters as more Catholic homeschoolers discover they have a Catholic option for this type of education."